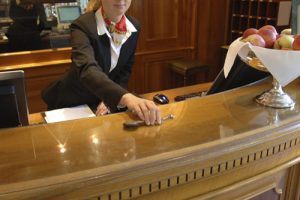 "And this is the testimony, that God gave us eternal life, and this life is in his Son. Whoever has the Son has life; whoever does not have the Son of God does not have life. I write these things to you who believe in the name of the Son of God that you may know that you have eternal life" (1 John 5:11-13 ESV).
My wife and I married when were very young. When we arrived at the hotel to check-in to the honeymoon suite that I had reserved for us on our wedding night, I was very nervous. I had never been in charge before. The few times I had ever stayed at a hotel some grownup had always checked in for me. But now, I was supposed to be the grownup. As we approached the check-in desk, the lady behind the counter said, "May I help you?"
Even though I had been mentally rehearsing my response from the time we pulled into the hotel parking lot, my voice croaked as I replied, "Yes, um… we're Mr. and Mrs. um… Gary Combs and um… we have reservations…"
I don't know if it was my imagination or not, but the clerk looked at me like she thought I was lying. I felt like she was going to ask for proof or something. Like she might want us to show her our rings or produce our marriage license. But she simply said, "Ah yes, we have it right here. Yes, the bridal suite for Mr. and Mrs. Gary Combs for three nights. And by the way, congratulations!"
"Thank you." I muttered, relieved that she had actually believed me.
Right after our wedding day, I didn't feel any different. I didn't feel married yet. Intellectually I knew that I was married. I knew that we had taken all the appropriate steps of commitment together. We had said the "I dos." But my feelings took a little longer to catch up.
Sometimes new believers express a similar sentiment. Right after they commit their lives to Christ, they have doubts about their salvation, saying, "But I don't feel any different."
Perhaps they expected to have an experience like the apostle Paul on the road to Damascus. In their minds, they wonder, "Where was the bright light and the audible voice?"
Yet, God calls us to walk by faith and not by sight (2 Cor. 5:7). We are to put our faith in His promises, not in our feelings. Feelings are fickle, but God's Word is firm. When we trust God's Word, our feelings will eventually follow.
Perhaps the recipients of the apostle John's first letter were struggling in the same way. They needed assurance of their salvation. So, John wrote to them to give them confidence. He said they could "know" that they had eternal life because they had "believed" into the name of God's Son. They didn't have to worry or work to be sure. They could "know" that they were saved because they had believed in Jesus.
In many ways, getting saved is like getting married. Have you given your life to Jesus? And do you believe that He has already given His life for you?
Good. Now, stand on that profession of faith. Walk it out. For some people, the feelings will wash over them like a flood in the very moment they commit. Yet for others, the feelings will follow later.